La Scala Peter Grimes
14th June 2013
Benjamin Britten's most popular opera, Peter Grimes, is the study of a man tortured by his own inadequacies and the disapproval of the small British coastal village where he earns his living as a fisherman. It's a very English opera, and so it's perhaps surprising that last year the La Scala opera house in Milan, famous for its productions of Verdi and Puccini, staged an almost perfect production of the opera, now available on DVD on the Opus Arte label.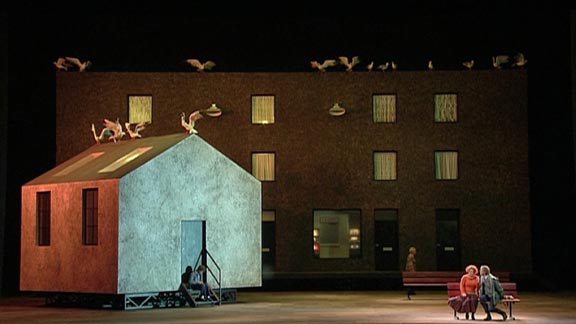 Ellen Orford tries to reason with Peter Grimes while the apprentice boy sits watching, in Benjamin Britten's opera Peter Grimes.
The production features a substantially British cast, with John Graham-Hall in the title role, Susan Gritton as Peter Grimes's friend Ellen Orford, and Felicity Palmer as the local landlady Auntie. There's not one weak point in the cast, and the orchestra and chorus of La Scala Theatre are superb, conducted by Robin Ticciati, a British conductor of Italian descent.
The setting is updated to the 1980s, and the staging directed by Richard Jones perfectly captures the oppressive atmosphere of life in a small English village, with its local pub, young people with no prospects, and superb sets of drab low-budget architecture complete with benches and seagulls. The video direction by Patrizia Carmine is effective without being intrusive, with overhead shots to emphasise the chaotic nature of the crowd scenes.
---
PREVIOUSLY ON OPERANIGHTS