The Cunning Little Vixen
21st October 2013
One of this year's opera DVD highlights has been Opus Arte's release of Janacek's opera "The Cunning Little Vixen" from the 2012 Glyndebourne Festival Opera production by Melly Still.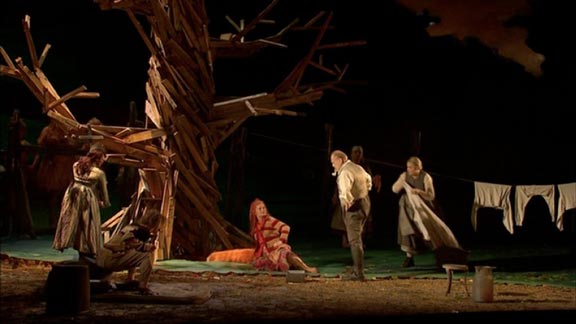 The Forester discovers that the Vixen is a bit more than he bargained for, in Janacek's opera The Cunning Little Vixen.
Inspired by episodes featured in a Czech newspaper cartoon strip, Janacek's opera isn't just a children's fairytale, but deals with the brutal cycle of life and death in the forest of Moravia. Melly Still's production succeeds admirably in conveying this, as well as the parallel lives of the animals and humans. Instead of using realistic animal costumes, the animals are dressed as humans, and their animal characteristics are conveyed with the help of props such as the Vixen's tail, which she uses as a weapon. The animals' sexual urges and aggressive instincts are portrayed with frankness; the Vixen's attack of the hens is particularly bloody.
Lucy Crowe's singing and acting are both superb in the title role as Vixen Sharp Ears. Sergei Leiferkusis and Emma Bell are also excellent as the Forester, and the Fox who falls in love with her. Vladimir Jurowski conducts the London Philharmonic Orchestra with confidence, and the rest of the cast are also very good. Altogether a near-perfect production of this charming opera.
---
PREVIOUSLY ON OPERANIGHTS