Teatro La Fenice Opera Collection
17th March 2008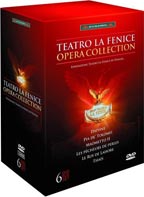 This boxed set features six operas, filmed from performance at Venice's Teatro La Fenice opera house between 2002 and 2006, and all the performances feature the orchestra and chorus of Teatro La Fenice Di Venezia.
For many collectors the fact that none of these operas are currently available elsewhere on DVD will make this a set well worth acquiring. The picture quality is generally good, and all the operas are widescreen (16:9) apart from the earliest recording, Thaïs, which is TV format (4:3). The sound quality is excellent; all the operas include Dolby Digital 5.1 and/or DTS soundtracks in addition to the standard 2-channel soundtrack.
Now to the individual performances. The three outstanding ones are Thaïs, Daphne, and Maometto Secondo. The other three are still enjoyable performances, but they are slightly let down, either by a dull production, or by poor singing in one of the major parts.
Overall a set well worth acquiring as a way of exploring several lesser-known operas by some major composers.
---
Thaïs - Jules Massenet

A stunning Thaïs for the screen; a moving production and excellent singing.
---
Daphne - Richard Strauss

A beautiful production of a rarely-performed opera, with a mesmerising performance by June Anderson as Daphne.
---
Maometto secondo - Gioachino Rossini

This is a performance of the Venetian version that Rossini modified to add a happy ending, but otherwise its an excellent production in every respect..
---
Le Roi de Lahore (The King of Lahore) - Jules Massenet

Currently the only version of Le Roi de Lahore on DVD, it's a disappointing production but with good singing.
---
Les pêcheurs de perles (The Pearl Fishers) - Georges Bizet

A fine production, slightly let down by the tenor Nakajima as Nadir.
---
Pia de'Tolomei - Gaetano Donizetti

A poor production, with scenes constructed from giant lettering, but if you can ignore that the singing is excellent.
---
PREVIOUSLY ON OPERANIGHTS