Giulio Cesare in Egitto (Julius Caesar in Egypt) - George Frideric Handel
Information about the opera Giulio Cesare in Egitto by George Frideric Handel, and the best recordings available on CD or DVD, or for download.
The most recorded of Handel's operas, and generally considered to be his finest work.
Recommended recordings on CD
Jacobs/Larmore/Schlick (Harmonia Mundi HMC901385/87)

A superb performance, excellently recorded.
Concerto Cologne, conducted by René Jacobs, 1991.
Cast: Jennifer Larmore (Giulio Cesare), Barbara Schlick (Cleopatra), Bernarda Fink (Cornelia), Marianne Rørholm (Sextus).
Harmonia Mundi HMC901385/87
---
Recommended recordings on DVD
Christie/Connolly/Niese (Opus Arte OA 0950 D)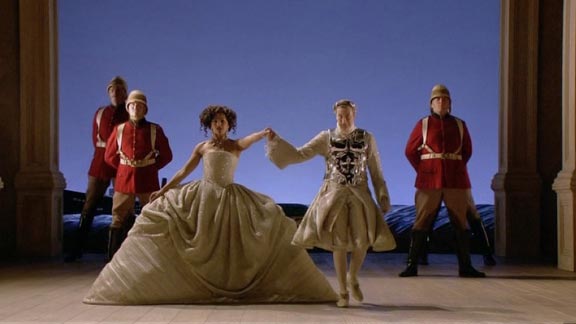 From a live performance at the Glyndebourne Opera House in 2005, David McVicar's production is witty and visually enchanting. Sarah Connolly is outstanding as Caesar, and Danielle de Niese is perfect as a sexy, flirtatious Cleopatra.
Orchestra of the Age of Enlightenment, Glyndebourne Chorus, conducted by William Christie, 2005.
Cast: Sarah Connolly (Giulio Cesare), Danielle de Niese (Cleopatra), Patricia Bardon (Cornelia), Angelika Kirchschlager (Sextus).
Opus Arte OA 0950 D
---
Hickox/Pushee/Kenny (EuroArts 205 3599)

Recorded live at Sydney Opera House in 1994, this impressive production by Francisco Negrin features excellent singing and is highly recommended.
Australian Opera and Ballet Orchestra, conducted by Richard Hickox, 1994.
Cast: Graham Pushee (Giulio Cesare), Yvonne Kenny (Cleopatra), Rosemary Gunn (Cornelia), Elizabeth Campbell (Sextus).
EuroArts 205 3599
---