L'incoronazione di Poppea (The Coronation of Poppea) - Claudio Monteverdi
Information about the opera L'incoronazione di Poppea by Claudio Monteverdi, and the best recordings available on CD or DVD, or for download.
Monteverdi's last and finest opera, written when he was 75.
Synopsis
The opera tells how Poppea, mistress of the Roman emperor Nerone (Nero), achieves her ambition to be crowned empress.
Recommended recordings on CD
Harnoncourt/Gaifa/Langridge (Teldec 2292-42547-2)

A recording with superb soloists.
Vienna Boys Choir, Vienna Concentus Musicus, conducted by Nikolaus Harnoncourt, 1975.
Cast: Carlo Gaifa (Poppea), Philip Langridge (Nerone), Enrico Fissore (Ottavia), Elisabeth Söderström (Ottone), Helen Donath (Seneca).
Teldec 2292-42547-2
---
Recommended recordings on DVD
Bicket/Persson/Connolly (Opus Arte OA 1073 D)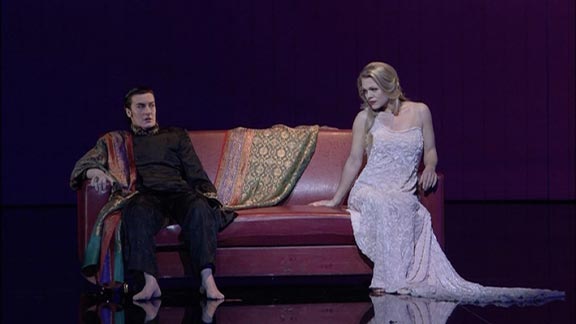 David Alden's production, recorded at the Gran Teatre del Liceu, Barcelona, in 2009, combines modernist sets with costumes that parody the story. Recommended unless you're a traditionalist.
Baroque Orchestra of the Gran Theatre del Liceu, conducted by Harry Bicket, 2009.
Cast: Miah Persson (Poppea), Sarah Connolly (Nerone), Maite Beaumont (Ottavia), Jordi Domènech (Ottone), Franz-Josef Selig (Seneca).
Opus Arte OA 1073 D
---
Rousset/Haymon/Balleys (Opus Arte OA 0924 D)

Recorded live at Het Muziektheater Amsterdam in 1994.
Les Talens Lyriques, conducted by Christophe Rousset, 1994.
Cast: Cynthia Haymon (Poppea), Brigitte Balleys (Nerone), Ning Liang (Ottavia), Michael Chance (Ottone).
Opus Arte OA 0924 D
---
Leppard/Ewing/Bailey (Warner Music Vision/NVC Arts 0630 16914-2)

Recorded at the 1984 Glyndebourne Festival, this is a highly recommended experience.
Glyndebourne Festival Chorus, London Philharmonic Orchestra, conducted by Raymond Leppard, 1984.
Cast: Maria Ewing (Poppea), Dennis Bailey (Nerone), Cynthia Clarey (Ottavia), Dale Duesing (Ottone).
Warner Music Vision/NVC Arts 0630 16914-2
---