The Tempest - Thomas Adès
Information about the opera The Tempest by Thomas Adès, and the best recordings available on CD or DVD, or for download.
Adapted from Shakespeare's play, it was a hit at its premiere at the Royal Opera House, Covent Garden, in 2004.
Synopsis
The opera takes place on an island where Prospero, the rightful Duke of Milan who has magical powers, lives with his daughter Miranda, the half-human Caliban, and the spirit Ariel who carries out Prospero's wishes.
At Prospero's request Ariel causes a violent storm to wreck the ship carrying King Alonso of Naples, his son Ferdinand, and Prospero's brother Antonio, but ensures that the passengers are saved and washed ashore onto the island.
Ferdinand and Miranda fall in love, and after several complications Prospero reveals himself to the visitors, makes his peace with Alonso and his brother, and grants Ariel her freedom.
Recommended recordings on CD
Adès/Keenleyside/Royal (EMI 695 234-2)

Recorded at the acclaimed revival of the opera at Covent Garden in 2007.
Royal Opera House Covent Garden Chorus, Royal Opera House Covent Garden Orchestra, conducted by Thomas Adès, 2007.
Cast: Simon Keenleyside (Prospero), Kate Royal (Miranda), Ian Bostridge (Caliban), Cynthia Sieden (Ariel), Toby Spence (Ferdinand).
EMI 695 234-2
---
Recommended recordings on DVD
Adès/Keenlyside/Leonard (Deutsche Grammophon 073 4932)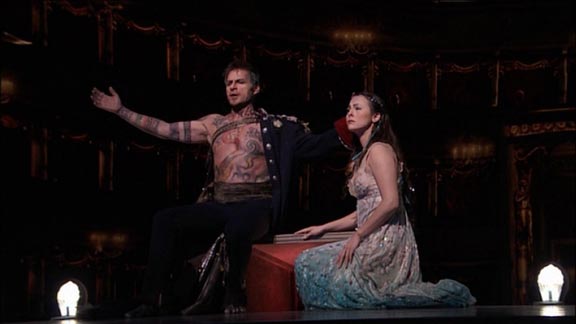 An outstanding production, originally broadcast as an HD Live transmission from the Metropolitan Opera in 2012.
Metropolitan Opera Orchestra, Metropolitan Opera Chorus, conducted by Thomas Adès, 2012.
Cast: Simon Keenlyside (Prospero), Isabel Leonard (Miranda), Alan Oke (Caliban), Audrey Luna (Ariel), Alek Shrader (Ferdinand).
Deutsche Grammophon 073 4932
---